buy, copper hill, philadelphia, philly, philly urban living, phl, real estate, realtor, sell, tim garrity, timothy garrity, timothygarrity.com
No Comments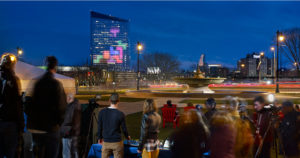 What do you typically think of when you hear the phrase "Top Tech Cities?"
I don't know about you, but I typically gravitate toward San Francisco/San Jose (aka Silicon Valley), New York, Boston, and Austin. Those are cities I hear about all of the time, especially in the start-up/tech world.
I also happen to be a big fan of Bloomberg TV, which makes those aforementioned city names even more repetitive.
Welp folks, we can now begin to discuss Philadelphia in that category as well. Ironically, this blog post is also kicking off Philly Tech Week 2016, so don't forget to check out the upcoming highlights between now and 5/7.
The Huffington Post recently posted an article titled, "Top 10 Cities Techies Should Consider Moving to In 2016." Guess who was #5 on their list (tied with NYC, mind you)? Yup, it was Philadelphia. That's a big one for myself and my fellow Philadelphians, considering we are not typically associated with other top US cities for tech.
At least, not yet and not often.
I know, I know. Blogs are subjective, they are not fact; case in point. But, you can't ignore that Philadelphia is now getting noticed in ways it never has before.
Part of the reason the term "tech" walked into our city's corner and took a seat is because of local, successful companies like RJ Metrics, DuckDuckGo, Curalate, and Scholly (a company which also happens to work out of the same space as Copper Hill, at Pipeline).
Now, to compare our city to one of our Northeastern neighbors (let's go with Boston, as we have similarities), a big reason why Boston gets so much credibility for their start-up/venture scene is due to its abundance of top-quality universities, millennial population growth, and vibrant city lifestyle. This is where Philadelphia is also starting to get noticed, as we too have great universities (ever heard of Penn, Drexel, Temple, and the rest of our higher education crew), a growing millennial population (the fastest growth rate among the 10 largest cities in the US), and the popularity of Center City/University City as amazing live/work/play environments (hello 2nd largest downtown).
So, is Philadelphia the best city to be in if you are in the tech industry? No. Is Philadelphia pushing its way into the overall discussion because of the reasons I just mentioned? Yes.
People are starting to notice Philadelphia's forward-thinking momentum and valuable assets: an affordable quality of life, dynamic cultural/food scene, and convenient Northeastern US location (as stated in the article: the beach is an hour in one direction, the mountains are an hour in the other direction, etc).
These are reasons why our city is on the rise and gaining credibility on both a national and international scale.