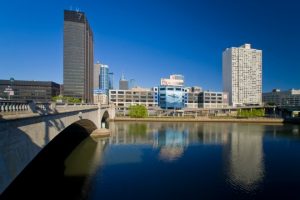 Marketplace Design Center, Philadelphia | Image courtesy of Bradley Maule

In general, apartment living in Philadelphia is pretty standard and predictable.
Your most common options are: "Studio," "1 Bed," and "2 Beds." Once you need "3+ Beds," the most common options are rowhomes, twins, or single families; not apartments/condos.
In 2015, the real estate status quo will shift due to changing demographics.
If you are unfamiliar with the Marketplace Design Center, let me paint the picture. When you are driving along I-76 (east or west) and you reach the downtown vicinity, there are multiple overpasses/bridges from both I-676 and Center City/University City connections. If you look across the Schuylkill River from I-76, you will see a large waterfront property with a giant mural on it. The mural is an ocean scene with whales swimming; officially known as Robert Wyland's "East Coast Humpbacks," circa 1993.
That's the place.
Now that you have a point of reference, let's talk about the latest project to grace the MDC (as there have been other recent attempts to redevelop the building, due to its prime location). PMC Property Group is looking to reconfigure the building into a modern, mixed-use destination (e.g. office space, ground-floor retail, hotel rooms, and apartments).
Unfortunately, it sounds like Wyland's mural won't make it through the rehab; bummer.
In order to fit all of these new elements, the building will expand vertically to accommodate the new apartments and hotel rooms. New entrances and lobbies will also make the building more inviting from the street.
What about the "different approach" you mentioned in the title? How does that play into this?
Okay, this is how Philadelphia's new approach relates to a city like NYC. The apartment/condo lifestyle in Philadelphia mostly caters to 2 groups: students/young professionals, and empty-nesters. Reason being, most people in those demographic groups only need a maximum of 2 Beds.
But what if someone wants to keep their apartment/condo lifestyle after they start a family? This is what PMC wants to accomplish.
In NYC, you can get apartments/condos/co-ops with 3+ Beds (and even 4+ Beds). Meaning you can live in a high-rise building and still have a large living space. Reason being, NYC is the densest metropolitan area in the US; therefore, NYC grows vertically to accommodate population growth.
So, if Philadelphians are flocking to Center City to enhance their lifestyles and the population is rising, we should now offer the same options as well.
That's why instead of the typical "Studio," "1 Bed," "2 Beds" approach, the new Marketplace Design Center will feature "1 Bed," "2 Beds," and "3 Beds" options in the residential section of the building. This can now cater to both young families (1-2 children) and extended families (nuclear families living with relatives); or, to those who just want/need more living space.
No matter which way you look at it, Philadelphia is currently experiencing a housing gap for the high-rise family lifestyle.
The project is expected to kick off in June 2015, so keep your eyes peeled for activity.